HOLD YOUR BREATH! BECAUSE WE ARE NOW GOING TO TELL YOU THAT BAD AIR IS ONE OF OUR LARGEST HEALTH RISKS. THE MEDICINE? PROVIDE ONE NAAVA, THE WORLD'S ONLY SMART PLANT WALL WHICH REVOLUTIONES THE AIR YOU BREATH IN.
Most of us live our lives in cities, isolated from nature. We spend 90% of our time inside four walls. There we breathe sterilized, artificial air a thousand times an hour. According to the World Health Organization, this is actually one of the greatest health risks for our generation. The company Naava's world-unique, smart plant walls neutralizes indoor air, removes harmful chemicals, optimizes humidity, reduces symptoms related to indoor air (such as stress and fatigue, but also disease state) as well as increases the cognitive performance. The active plant walls also have such a high degree of design that they really enhance the environments in which they are placed (yes, they have won several design awards, thanks for asking). In addition to being both a biological air purifier and humidifier, acoustic elements and luminaires, so they can also be used as room dividers. Naava is as I said even a smart plant wall: its functions are controlled by technology and it is fully automated.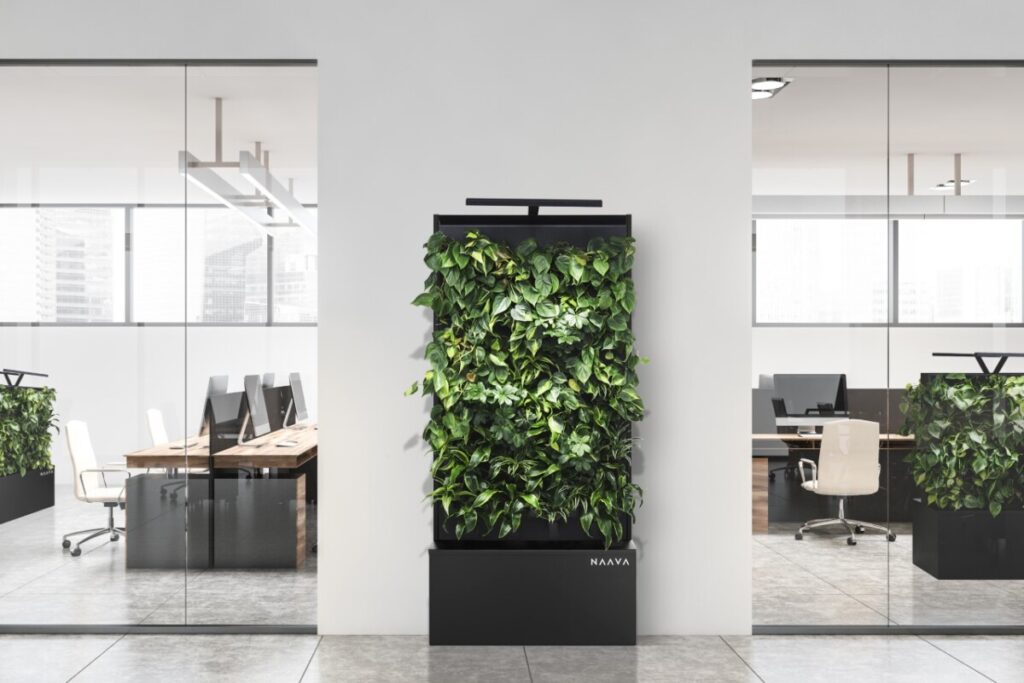 —Man spends most of the day indoors, and therefore we should feel as good indoors as when we are out in nature where we feel the best, says Esbjörn Jagebro, Sweden manager for the health tech company Naava. We want bring about a positive change in people's daily working lives. And we do it with Naava's smart plant walls like takes nature's benefits such as naturally purified air and optimal humidity to the indoor environment. At work, employees often sit for eight hours a day within four walls. Never forget that employees are the company's biggest assets! Our goal is to create happier and more prosperous workplaces. We simply put the well-being of the staff on the agenda. A prosperous workplace has a direct connection with an organization's productivity, customer satisfaction, sick leave and accident prevention. By investing in the well-being of employees also creates an organization more attractive image of the company, which is important to both strengthen both the company's PR and brand. As I mentioned earlier, Naava has a positive impact on employees' performance and well-being and thereby also on the company's results.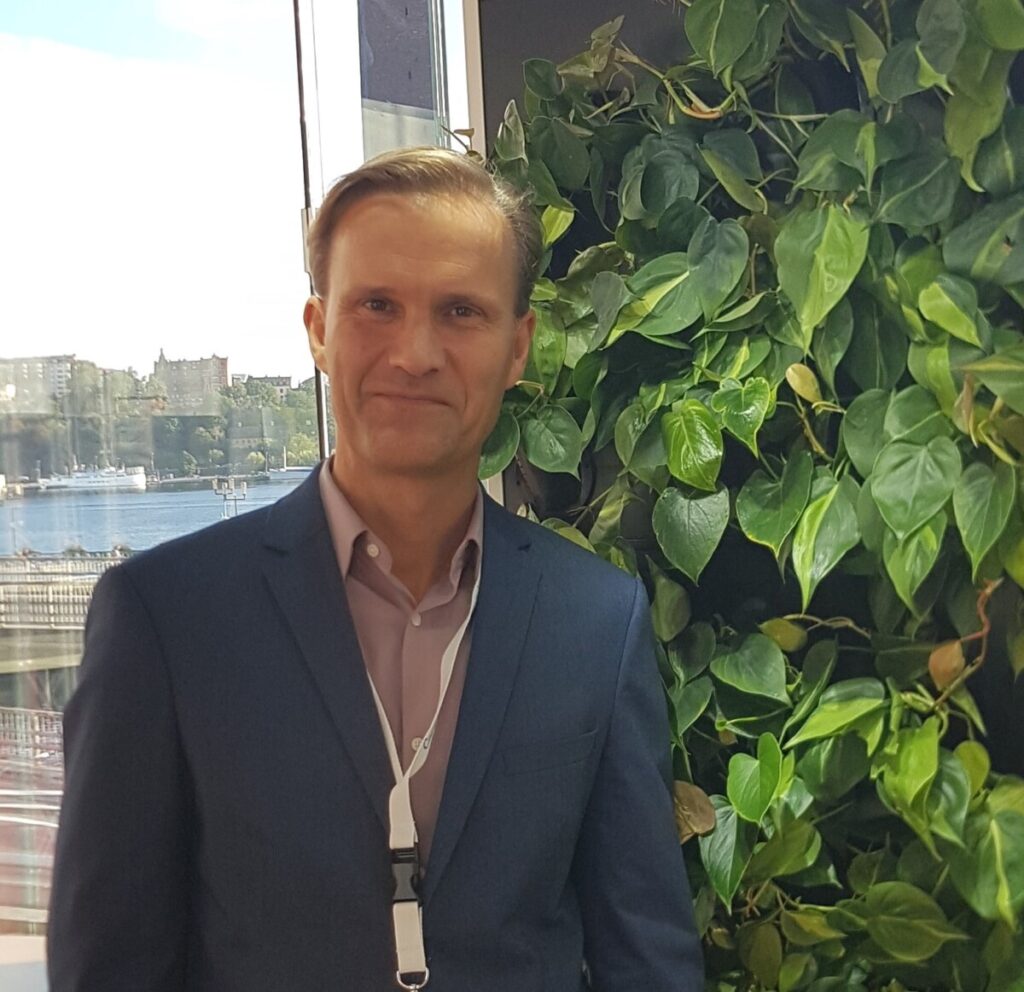 But it is not enough to acquire some plants to the office and put the receptionist on to take care of these?
– Many people think it does, but a few plants have one minimal cleaning effect. In our plant walls, we have multiplied this effect, which is normally very small. Achieving the same air purification effect as a Naava plant wall with 60 biofilters would require that approximately 6,000 ordinary, green plants be placed in the room. It would be impossible to place or care for such a large number of plants.
It is often said that something is not "rocket-science", but in Naava's case, that was exactly what it was. When the Finn Aki Soudunsaari received his doctorate in entrepreneurship from the University of Jyväskylä, Finland, he took a sabbatical and worked as a teacher. Then he got what he calls "sick indoor syndrome", dry eyes, tracheal catarrh and lost his voice. He suffered from "brain fog" and had cognitive difficulties, but only when he taught theoretical subjects indoors. Half the time he was namely outdoor sports teachers. Back in his doctoral studies, he opened his eyes for how a colleague purified water using algae.
Could plants clean air in the same way? wondered the quick-witted Ari Soudunsaari. Yes, studies from Nasa showed that it is not the leaves but the roots that clear the air. An insight that led Aki Soudunsaari in 2012 to start the health tech company Naava, which builds portable biological air purifiers. One such consists of green screens with a water tank at the bottom and a wall consisting of mini-plants that grow in small compartment. At the top is a fan system and computer equipment which both measures the conditions of the room and ensures that the system works. The plants do not grow in soil but in one "Porous plant medium" that keeps the roots accessible to the air. They have investigated that air purification gives results cognitive tests in classrooms and measurements of stress hormones as well as oxygenation of humans in rooms with a Naava wall – and without.
—To make forest air indoors is a collaboration between biology and technology. The microbes in the roots eat the indoor air particles and purifies it, says Esbjörn Jagebro.
The basis of the idea lies in the science of microbes and theirs cleaning effect. Microbes that live in the roots of plants are living microorganisms, which are found all around us, even if we can not see them with the naked eye. They eat impurities, as they break down the chemicals in the air to nutrition. From this process, the plants get nutrients, so such as sugar and natural chemicals. The core of the Naava's function lies in an active air circulation and groundless plant substrate. This supplies the microbes that are alive in the root system of plants and which breaks down impurities in the air, with an ideal environment. You could say that we utilizes microbes in the same way as a treatment plant does then it cleans water. The Naava's functions are monitored remotely at a distance which allows us to assure that the Naava provides the user with a natural and optimal indoor air regardless of the time of year or day.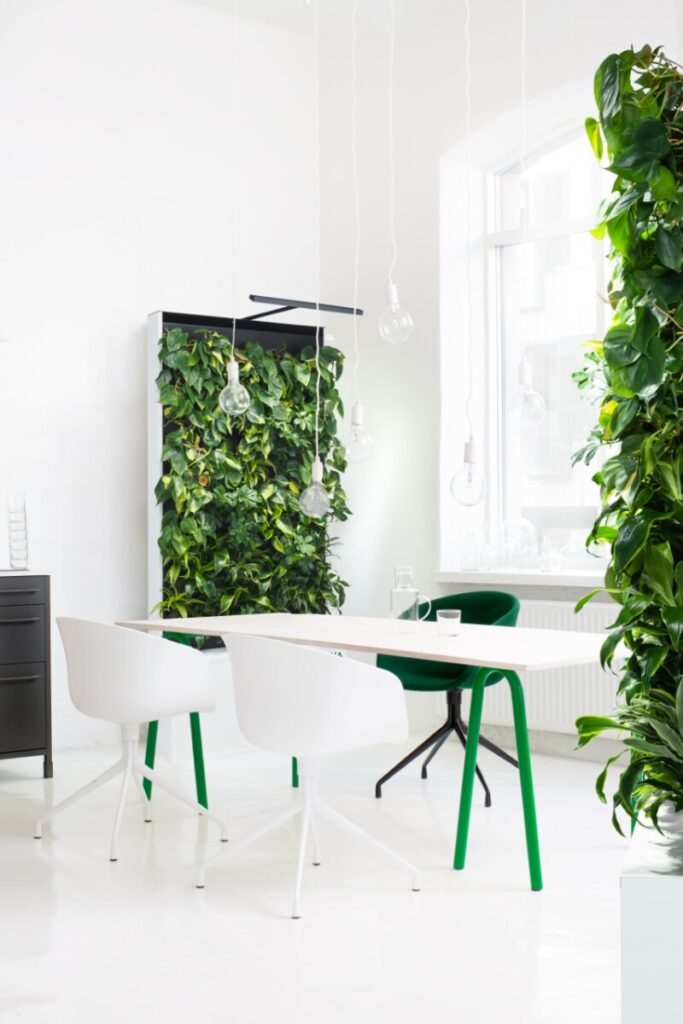 But is not the Naava's function less efficient during the winter months?
-No it's not. Only the production of plants is different during the winter. The Naava itself, on the other hand, is affected not because we in the Nordics see less of the sun, because the Naava is designed to withstand different seasons and different conditions in the environment. The Naava always has its own lighting, which ensures that it gets enough with light. Therefore, the Naava can also be placed without problems in basements. Imagine for a second you were transposed into the karmic driven world of Earl there. Does that sound like an unattainable dream? Think again, says after having themselves had the privilege of staying a few hours in the Naava Breathing Room in central Stockholm. It is a almost unlikely how the stay in this environment affects one's condition – one feels infinitely much more alert and sharper than before, but also calmer! It's like that one suddenly, after wandering around in a haze quite too long, can think clearly. Like a mental cleansing bath. In fact, it is impossible to put into words how transformative the experience is – you actually have to experience it for yourself.
—When did you last regret a forest walk? asks Esbjörn Jagebro rhetorically. Out in nature we find harmony and can draw strength, it is a place of recovery and contemplation. The fresh forest air and the pastoral, The soothing environment works healing and is just what it is de-stressed modern man of today needs, often without even being aware of it. The Naava Breathing Room is a place where we have combined air, light and the sound in an optimal way to boost both health and productivity and creativity. With us, whoever is interested in our world-unique innovation itself in place few experience how the benefits of nature and harmonious elements promotes both physical and mental well-being. Our guests usually say that they feel smarter when they staying in our Breathing Room. A Harvard study also provides at hand that the capacity of the brain is affected up to 60% of the quality of the indoor air. Our vision is to people in fact, as strange as it may sound, should feel fresher when they leave their office than when they arrive. I can say from personal experience that it works. Before I started working with Naava I was so tired in the evening when I got home from work, and especially on Friday, after the whole work-week. I needed to catch up and recharge the batteries. But now I am a completely different person too when I am not at work.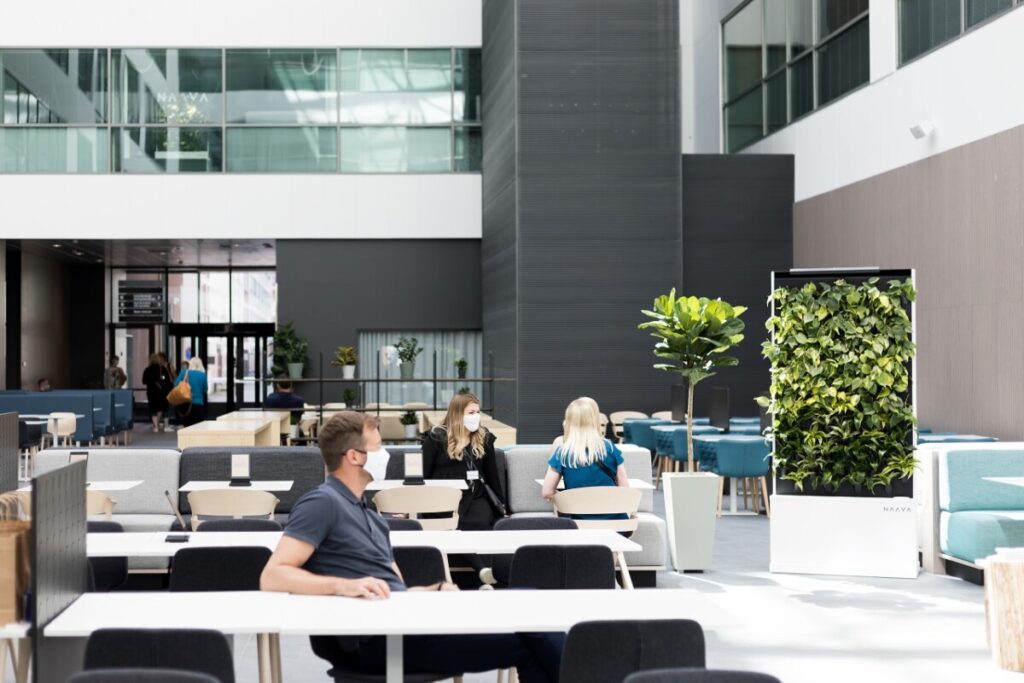 Are there corresponding plant walls for the Naava on the market?
—What makes the Naava unique from other plant walls is that the Naava is equipped with artificial intelligence, which turns it into a smart plant wall.
Is the smart plant wall better than a regular one air purifier?
—Naava's smart plant walls are a natural alternative, which in addition to cleaning the air, also moisturizes the air at the same time as they are beautiful interior elements. Naava is thus a 3-in-1 solution!
What plants do you use in your products and are the real ones?
—Our air cleaning technology creates a demanding environment for the plants, which means that only a few can handle ours tester. At Naava, we have strict standards regarding how we choose plants. Among other things, the availability of the plant species, properties, appearance, allergy friendliness and survival determining factors. The plants go through a hard process of tests, where you see which plant species are good enough to qualify for a place in the Naava. On our plant walls it grows common green plants such as climbing cold, bird nests and room box. Over the years, we have researched over 120 different plant species and constantly testing new ones. Our current plants purifies the air over a hundred times more efficient in comparison with ordinary and traditional plant walls
Do the plants last forever?
—The plants used in the Naava do not last forever, because they are common green plants. If necessary, they are replaced when our Service team comes to visit. In the same manner as all other living things can also make the plants sick. During the Service visits, dead plants are always replaced with living ones and green plants, and broken sensors are replaced with new ones. The team also checks that the Naava is getting enough nutrients, and adds a little extra if it is needed.
How are the pots for Naavan's plants shaped?
—To improve air circulation, we developed one pot, which the air easily flows through. At the same time, they are also easy to place the plants in, and also easy to replace if needed when our Service team comes to visit.
Where is Naava Made?
—Naava's active plant walls are developed and designed in Finland. The products thus hold stamp "Made in Finland" and employs around 50 people. All manufacturing materials are carefully selected and in the most environmentally friendly way possible. All material tested for several months under extreme conditions. Now it's easier than ever for designers to draw in Naava plant walls in different types of indoor environments there they want to improve the well-being and performance of employees.
—Normal plant walls are high, which means that they need to be placed against the walls of the room. Naava's customers has requested a product that makes it possible to place the plant wall near the desks in office landscapes at the same time as you get a good overview of the room. Therefore we have developed the plant wall Naava Flow. We are also launching a version of Naava for homes. This is because so many people that have felt how good the Naava is at their work place, also have sought over a revolutionary air purifier and humidifier for their home environment. They simply want to feel as good when they are at home as at when they are at work. Its Scandinavian, stylish design also makes it incredible easily placed. So that you choose a Naava, whether it's for the office or your home, is no surprice – it's actually in your nature!