In the months leading to Brilliant & Black: Age of Enlightenment, Camila Hori sat down with Frank Everett, Sotheby's Sales Director for the Luxury Division, and Brilliant & Black's curator, Melanie Grant. What ensued was a conversation about the moment Black designers are experiencing now, with well-known challenges mixed with a positive step forward in recognition.
Can you tell us about the evolution of Brilliant & Black between last year and the new installment in London? Were there surprises along the way?
Melanie Grant:
The first exhibition was in 2021, after George Floyd and the biggest uprising in American history in terms of protests. Frank [Everett] and I were already in talks about doing an event for my book, when I asked him if he would consider doing the first selling exhibition for jewelry designers of African descent. Frank surprised me and said "yes" pretty much straight away.
We asked 19 living designers and two estates if they would take part. The point of the show was to highlight Black talent at the very top in jewelry, which was rarely done. Traditionally, big jewelers have said, "We're doing a collection on African jewelry," without African people in it, making it or creating it. We wanted to go from African-inspired to people of African origin being the actual creators. I knew designers who deserved to have a higher profile, but who just didn't have the ability to do that themselves.
Frank Everett:
Melanie wanted established working artists. These weren't emerging artists.
Melanie Grant:
We needed well-established artists, artist jewelers and high jewelers who had the work but not necessarily the platform. Before 2020, much fewer people knew who they were. In the first Brilliant & Black, we had a lot of gem-set pieces, we had a million-dollar ring that Maggi Simpkins created from LA. And we pushed everyone out of their comfort zones. Most of them made at least one completely new piece for us (they gave us three pieces each).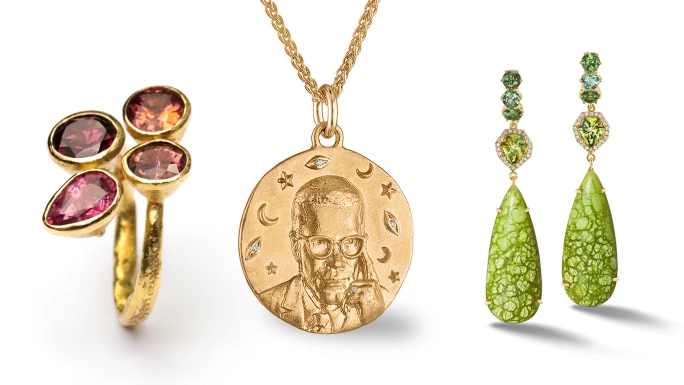 Frank Everett:
And for Sotheby's, we had been focusing more on contemporary jewelry outside of the auction cycle. Jewelry like this from any contemporary jewelers—Black designers or anybody—appeals to art collectors. That's why we partnered so nicely with Thelma Golden in the past, who is not a jewelry person—it was more about contemporary art than about jewelry. As soon as I proposed Brilliant & Black to people, everybody said the same thing: "Yes, yes, yes." It was a project that got instant support.
Melanie Grant:
It's also interesting, our idea of Blackness and what that was—we had to think about that. Initially, we talked about doing the show with people of color, but I was very clear it had to be Black because we haven't ever had any show like this just focusing on Black talent. And the response took us all by surprise. We hoped it would be good, but it was beyond anything we could have imagined.
Frank Everett:
What I really loved was the community; that did exist in part, but many of the 19 designers in the show had never met. There was some friendships and some camaraderie, but I feel like we helped take a community to a new level. I really do.
Melanie Grant:
Absolutely. Many of us were in different countries and had crazy, busy lives. Some really deep friendships have come out of this and we help each other—and for me, that was the biggest thing: creating a community that could help elevate and motivate other designers. I think we had much more of an effect on a range of people than we realized.
What are the biggest challenges right now for Black designers?
Melanie Grant:
Getting financing is still really tough for Black designers, as is creating an investment support structure. We were also fighting something else in the Black community—jewelry design is not something people really encourage us to do. It's like, "Be a lawyer or a doctor." So, doing a thing which is considered to be quite risky with no financial safety net is hard.
Also, everyone is first generation. None of our designers have come from a jewelry background. No one is seven generations in or from a wealthy background. Getting into this industry, which is very protected and quite impenetrable, is one of the biggest hurdles. Many Black designers have experienced overt racism trying to get access to precious materials—considering most of those materials come from Black countries, that's quite interesting.
Frank Everett:
I learned so much from all the designers and some of them have become very good friends. I found it fascinating to hear the stories of the three designers that we shot the videos for in their studios because they were so different in their approaches: Sheryl Jones making classical and glamorous diamond jewelry in the [Diamond] District, and then you've got Johnny Nelson doing his amazing work driven by fashion and art. And then Lorraine West somewhere in the middle, working closely with celebrity clients and stylists.
One of the things that I thought was interesting, Melanie, is that some of the European designers didn't feel as strongly about being identified as Black designers or that they had faced particular challenges the way others did in the States. Everybody was pretty clear about the things Melanie just said—you can't get money, you can't get somebody to consign you stones and all of that kind of support. Especially because of the generational thing—the industry is so insular and generational. It's not easy for anybody to break in, anybody to come in from the outside at all.
Melanie Grant:
It's not easy. And then you have to survive long enough in the industry to get good. It takes around 10 years to know if you've got the talent, another 10 years to really get into it, then 25 to 30 years of being at the top of what you do. And you have to survive financially in that time. That can be the ultimate challenge.
Frank Everett:
It amazes me how a young artist, of any type, has to be entrepreneurial at the same time. Literally do two completely separate jobs: spend your life making whatever it is that you make, and then turn around and become a business person and a salesperson and a marketer and a financial person on top of all of it. All those hats? I don't know how they do it.
Brilliant & Black: A Jewelry Renaissance and Brilliant & Black: Age of Enlightenment. Tell us about the specific enlightenment aspects of Brilliant & Black that we're doing in London.
Melanie Grant:
A lot of patterns in history repeat themselves. If you go back into history and look at the Renaissance in Europe, which happened from the 1300s onwards, there was an explosion of creativity from then on. Once the Renaissance occurred, creatively there is often a period of enlightenment where you have an awakening, which I think we did. We really saw Black jewelers in the first exhibition—a lot of collectors discovered them in that show and realized how good they were, then in this show, we are exploring their work in new and interesting ways.
The question really is, "What happens next?" People are saying to me "Post-2020, now it's all calmed down with Black Lives Matter, we are going to slip off the agenda and roll back to a place where nobody was really given any attention." I don't even think that's possible because we have now come together as a viable community and we can see what needs to be done. But what are we hoping for in the future?
For this show, we don't have any heritage estates, such as Art Smith, which were much more about recognizing the historical contribution. This show is a bigger show with 25 contemporary designers. It's about forward motion, and the period we're in with all the elements we are talking about, is a period of enlightenment for Black design. I think we are at the start of a movement, personally.
Where do we draw the line between art and jewelry as wearable art?
Melanie Grant:
Jewelry has to move you emotionally to be art. It has to have meaning; it has to be rare, handmade. It has to be museum or gallery quality. We could talk a long time about what makes something art, but when you see it you can feel it. Otherwise, it's accessory—which there's nothing wrong with that, but it's not going to change someone's life. It's just adornment.
What do you think has changed during the pandemic, in the way we relate to jewelry and the things that we buy and surround ourselves with? How do you think things have changed in recent years?
Melanie Grant:
Across the board at the higher end, we are buying less but better. I talked to jewelers based in Hong Kong who had a rush of people buying with more time on their hands, who usually travel constantly—and they bought quite a lot more. Women buying for themselves slowed down a bit and they're buying much more considered pieces.
On the whole, because people didn't have as many places to go so they didn't buy as much, and if they wanted to go and see the piece, they couldn't in COVID. I think now there will be some kind of bonanza, economically. But then COVID is dragging on; it's not over. I think we're just learning to consume jewelry in a slightly different way—we are absolutely doing it more carefully. But when we want to splurge, we really go for it.