Experience the allure of the "Malibu Sand House," a masterpiece created by the renowned architect Harry Gesner. This captivating home, nestled along 122 feet of pristine Pacific Ocean beach, offers panoramic views and a one-of-a-kind design that seamlessly blends with nature.
Harry Gesner, celebrated as one of America's most innovative architects, was known for his unconventional and eco-conscious designs. His visionary approach to architecture is vividly showcased in the Sandcastle, a property now available at a reduced price of $22.5 million.
Embodying Gesner's commitment to sustainability, Sandcastle is crafted almost entirely from reclaimed materials. Its distinctive form resembles a beachfront sandcastle, with organic curves, exposed wooden beams, and expansive windows that frame breathtaking ocean vistas.
Step inside to discover a six-bedroom, six-bathroom retreat, built in 1961, with a sunken living room centered around a grand brick fireplace. This exceptional design incorporates a spiral staircase, built-in furniture, floor-to-ceiling bookshelves, a solarium adorned with stained glass panels, and inviting outdoor decks, blurring the line between indoor and outdoor living.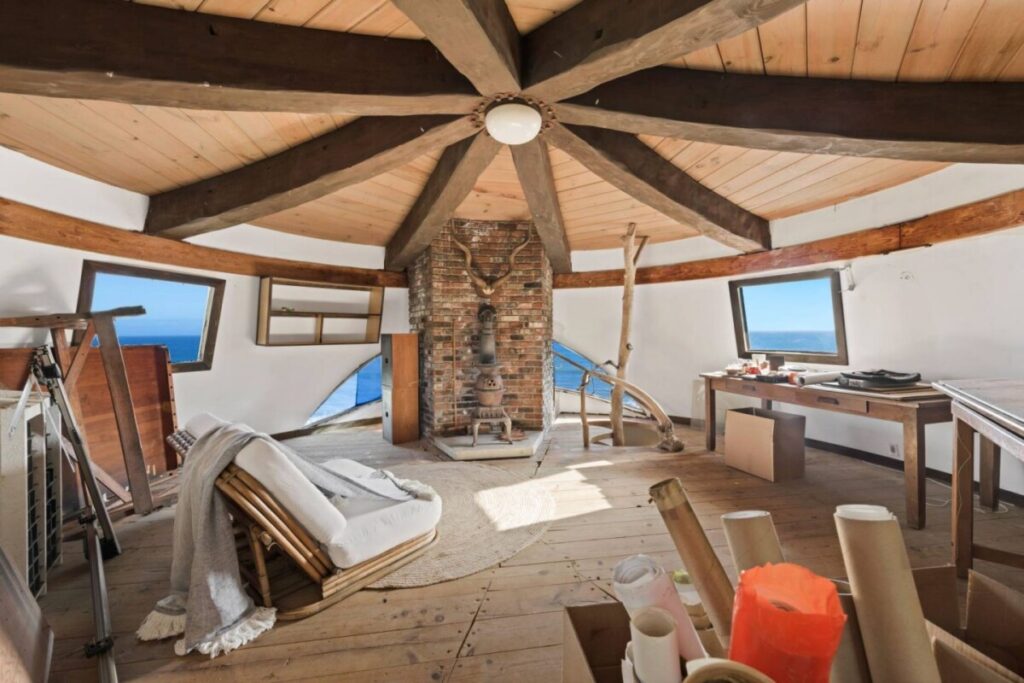 Gesner's dedication to functional living spaces is evident throughout the property, featuring not only the main residence but also a "tree house" apartment, a charming "boat house," and a one-bedroom "nest" apartment above the indoor-outdoor cabana.
Beyond his architectural achievements, Harry Gesner led a captivating life. A California native, he survived World War II's D-Day Omaha Beach invasion and the Battle of the Bulge, using his surfing skills to evade danger. After the war, he embarked on a journey through New York, Ecuador, and Mexico before returning to Southern California, where he became a self-taught architect and continued surfing well into his later years.
Experience the legacy of Harry Gesner and make the "Malibu Sand House" your own. Contact Zen Gesner and Chris Cortazzo from Compass to explore this extraordinary property. Photos by Mike Helfrich.