Experience a mildly smoky whisky with hints of salt, dried fruit, and licorice. Sit back, relax, and let this whisky take you on an emotional tour of Europe—from Jerez in southern Spain, through Islay in Scotland, to the quaint town of Arboga.
Whisky enthusiasts, get ready for a new taste adventure! We are excited to announce the launch of Agitator's latest limited edition product — a whisky aged in small quarter casks, previously containing Islay whisky and barrels used for Pedro Ximenez Sherry maturation.
Pedro Ximenez Sherry, a sweet dessert wine from southern Spain's Jerez region, adds a rich and complex flavor. Our whisky inherits the Islay region's renowned smokiness, resulting from peat-dried barley, along with a touch of saltiness.
Agitator's Argument Islay PX offers a unique European journey. They carefully aged their vacuum-distilled Arboga whisky in selected casks from two distinguished regions—Islay and Sherry. With a 40ppm malt content, this blend of low-reflux and high-reflux still distillates delivers a lightly smoky whisky with salt accents, sweet licorice, nougat, and dried fruit notes.
For an exquisite culinary experience, pair this whisky with blue cheese or aged cheddar. The creamy texture of the cheese complements the smoky notes. If you have a sweet tooth, savor it with dark chocolate (preferably 70% cocoa or higher). The Pedro Ximenez Sherry's sweetness perfectly harmonizes with the cocoa flavor.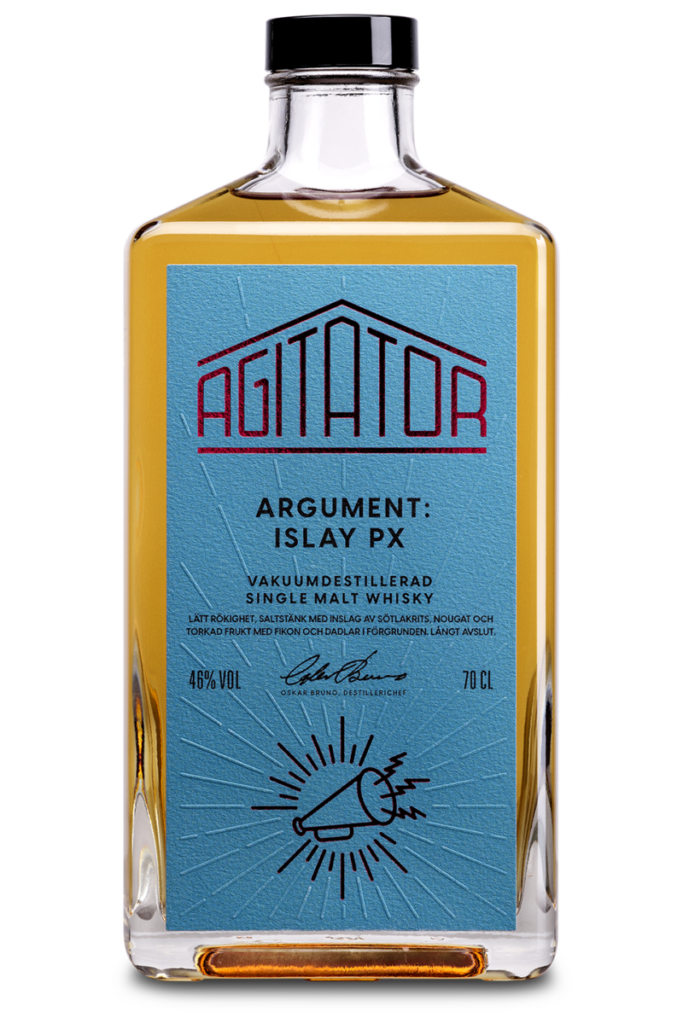 Agitator's Argument Islay PX, with an ABV of 46%, will have a limited release at Systembolaget with article number 41337–01. Only 6,000 bottles will be available in approximately 220 stores nationwide from June 9th, priced at SEK 599 for a 70cl bottle.