Hilton & Moss, the world-leading specialists in the restoration and sales of classic and prestige vehicles, reignites the spark of sixties motoring style for the modern road with a completely restored 1960 Aston Martin DB4.
Rebuilt from every nut and bolt, wheels to roof, the Silver Birch-example of the DB4 is a flawless embodiment of the movie-star spirit that truly kick-started one of the most famous partnerships in cinematic history.
Paving the way for its world-famous successor, the Aston Martin DB5, the DB4 was the first model from the quintessentially British marque that rolled onto the set of a James Bond film production.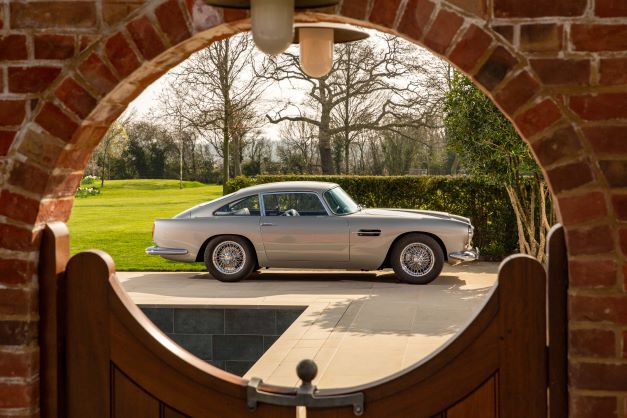 The grandfather of super-spy motoring performance was employed by the film crew's special effects designers as a test car for Aston Martin's first ever Bond film, 1962's Goldfinger, and the first vehicle from David Brown's stylish stable that Sean Connery ever turned a wheel in behind the scenes.
Only a year before the end of its production run in 1963, the legendary legacy of the DB4 was only getting started. Thrash down the road to the present day and the DB4 remains highly revered for its superb Carrozzeria Touring-borne Italian styling, reinforced by its patented Superleggera tubular and alloy body construction. Add to that an engine designed by a bona-fide racing driver in Tadek Marek, and the stage was set for an absorbing grand-touring experience.
Entrusted with doing this holistic legacy justice, Hilton & Moss leveraged its industry-leading expertise in Aston Martin restoration and its network of specialist advisers to take the spirit of the hallowed design and combine it with modern-day performance engineering.
With its state-of-the-art 125,000sq/ft facility at its disposal, Hilton & Moss' seasoned restoration teams treated the stunning exterior to a full bare-metal respray, transformed in one of the business' five manufacturer-approved paint booths from its original green to gleaming Silver Birch – giving it an aura truly worthy of the silver screen.
The mechanical components and performance were treated to a complete overhaul to match the stunning grand tourer's exterior. The racing driver-designed powerplant was bored out to a 4.2-litre specification by specialist partner Oselli, expertly lightened, balanced and also converted to run on unleaded fuel – compressed to combustion by Cosworth-forged pistons.
The four-speed David Brown gearbox was also fully rebuilt with integrated overdrive, providing the driver with a reassuringly classic feel behind the wheel. Cornering and body roll, meanwhile, are kept in check by a larger anti-roll bar, providing road-holding worthy of a modern driving experience.
In the cabin, the overhaul seamlessly brings retrospective charm and modern convenience together, with the vehicle treated to electric power steering, a heated rear windscreen, electronic clock and aerial, and a period-style audio system with iPod connectivity.
The Hilton Group Founder, Peter Hilton, said: "The Aston Martin DB4 not only has star-studded film star credentials, but also boasts a design philosophy that would set the precedent for the iconic model that would follow it. Myself and the entire team at Hilton & Moss are honoured to be able to restore such a giant of British motoring to its former glory, and continue our distinguished heritage of restoring some of the world's finest cars."