Soon a building will land on its neat poles on a natural plot in wonderful Trosa. Here, rustic materials are given space which creates a home that feels innovative, yet familiar. With minor impact on the surrounding nature, this is a home that will be looked up upon being built here!
Very soon this tasteful and well-thought-out project will be put up for sale. It is difficult to summarize all the values in this building – but if anyone can do it, it is Ejje Lundgren at Lundgren Guldhammer Architects who has designed this villa:
"A hilly natural plot with visible rocks. Almost 10 meters of altitude difference from Älgbacken in the east up to the rocky heights in the west. A leniency/gentleness towards the nature, by lifting the house onto poles, instead of blasting, which preserves the foliage and the rock formations under and around the house. "Stolphus" has had a local upswing in recent years and is found both on the neighboring plot and at the nearby and well-known Emil's Hill as well.
The house advertises itself from the street as an elevated horizontal wooden structure among the vertical pine trees. The entrance is reached by walking below the house and then up via a staircase wedged between the rock wall and the "floating" house. The terrace is sawn after the rocks and acts as a link between the social zone and nature. The more secluded section of the house is located at the other end, where the distance to the ground is the greatest. A dream of living up among the treetops."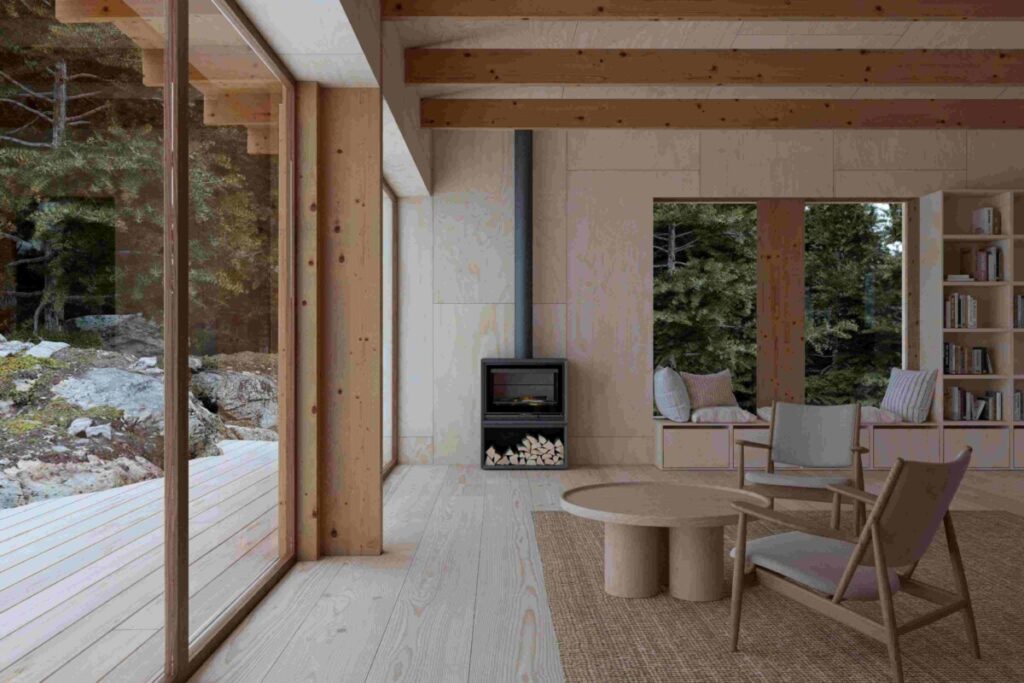 Knot-free plywood will adorn the walls on the inside of the house and meet a solid wood plank floor. The construction of the house reveals itself with visible roof beams and poles. A long line of sight runs from gable to gable and along the path throughout the house, there is an open living room and kitchen area, which then closes into a more secluded part with three bedrooms, a lounge, a laundry room, and an office area. The Master Bedroom gets its own southern gable of the house and has an en-suite bathroom. The boundaries between outside and inside are seamless with large windows that run from floor to ceiling. The house's large wooden deck, which surrounds the entire house, can be reached from several places. Here you can enjoy an elevated position nestled between the trees, foliage and rock formations on a deck shaped around nature. The plot on which the house is built is unique in its location. The property is surrounded by common land on three sides, and the nearest neighbor is about 10 meters away. There are only three plots on this street, which means that this type of villa goes hand in hand with where it is built.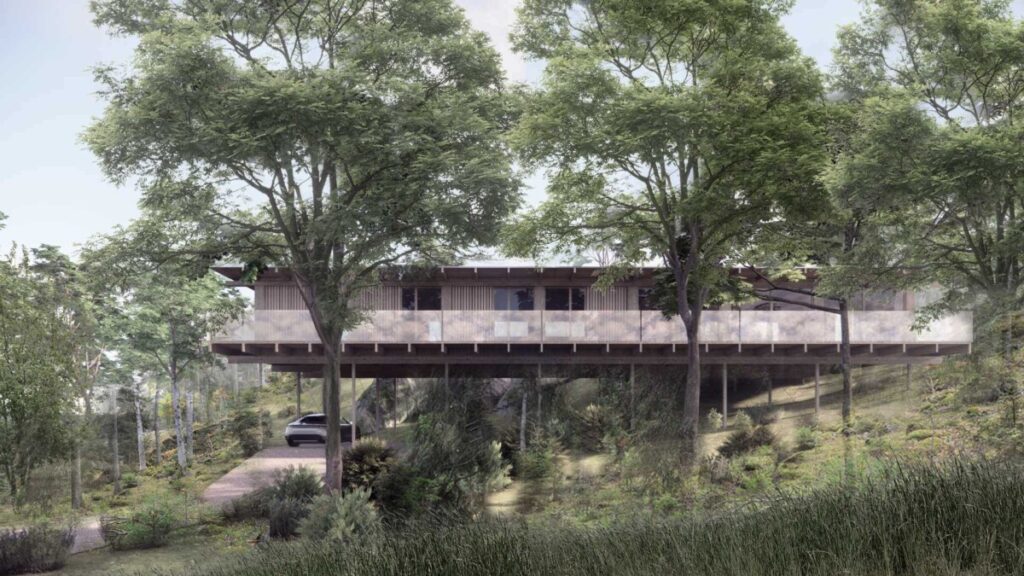 If you want more information about this project, please contact real estate agent Jonathan Florin at Florin Partners Fastighetsförmedling on +46 72 028 72 20 or jonathan@florinpartners.com