Plantation Rum takes enthusiasts on a remarkable journey that starts with the lush landscapes of Jamaica and ends with the refined traditions of France. This particular rum, aged for approximately eight years in tropical Jamaican conditions, embarks on a unique maturation process. After its time in bourbon barrels, it makes its way to Château de Bonbonnet in France for an additional two-year aging period in 350-liter cognac casks from Pierre Ferrand. Plantation Vintage Jamaica 10 Years has a rich and Spicy Flavor with Prominent Oak Notes: A Symphony of Sultan Raisins, Vanilla Fudge, Dried Apricots, Arrack, Marzipan, and Orange. Best Enjoyed at Room Temperature as a Digestif.
Melass, the key ingredient: Crafted from molasses, this rum's foundation emerges from the heating of crushed sugarcane fibers and stems to temperatures between 70-80°C. The result is a rich, viscous, and aromatic syrup known as melass. Its high sugar content is so intense that no yeast strains can thrive within it. To initiate fermentation, it is diluted with water and left to ferment for two weeks. Following this, the liquid undergoes distillation in a traditional copper pot still.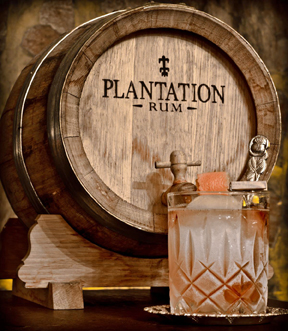 Cognac Ferrand's Legacy: Cognac Ferrand, founded in 1989 by Jean-Dominique Andreu and now solely owned by Alexandre Gabriel, boasts an impressive portfolio of brands, with Plantation being one of its shining stars. The journey of Plantation Rum began when Alexandre Gabriel stumbled upon aged rum barrels from various origins and ages. This discovery sparked his curiosity about the nuances in rum production across regions and methods. Today, Plantation Rum thrives with three distilleries on Barbados and Jamaica, with this particular rum distilled at the Clarendon distillery in Jamaica.
In Jamaica, the preference for rum leans towards the bolder, heavier style, a preference well-founded given the island's abundance of pot stills. This method imparts robust and aromatic flavors to the rum, creating a character distinct to Jamaica. It's worth noting that the term "gold rum" is used to describe aged spirits in Jamaica, even when some of these spirits surpass two decades in maturation.
Jamaican rums have earned their esteemed reputation, rooted in the island's rich rum-making heritage. With a history deeply intertwined with the craft, Plantation Rum continues to honor and elevate the legacy of Jamaican rum production.
Plantation Vintage Jamaica 10 Years is now available at Systembolaget's temporary assortment. Product number 221. 569 SEK for 700ml.