The Retreat Costa Rica – a tropical, luxury wellness boutique resort perched on a high vibrational crystal mountain in Atenas, has expanded its main all-day restaurant and renamed it Sol Terrace: Nature's Gastronomy.
Sol Terrace's new expanded architectural and aesthetic design was
created by The Retreat's owner and creator Diana Stobo and her partner
Enrique Herrera. Their goal was to expand the dramatically chic
restaurant, bar and lounge to accommodate more guests in a light,
sprawling indoor/outdoor space in sync with the resort's motif of East
meets West – highlighted by a Western minimalist flare while
incorporating expressive natural elements, designs and a feeling of
tranquility from the East.
Now, the restaurant is more than double in size to 2,421 square feet to
comfortably serve 80 people. The new bar is a luxurious 20 feet long
with eight bar chairs. The ceilings are various heights – from 14 feet
rising upward to 18 feet high with glass ceilings draped in canvas. Sol
Terrace's color palette is one that reflects soothing natural tones
and white with splashes of soft yellows, blues and greens – allowing
bright sunlight and the surrounding greenery to stimulate the senses.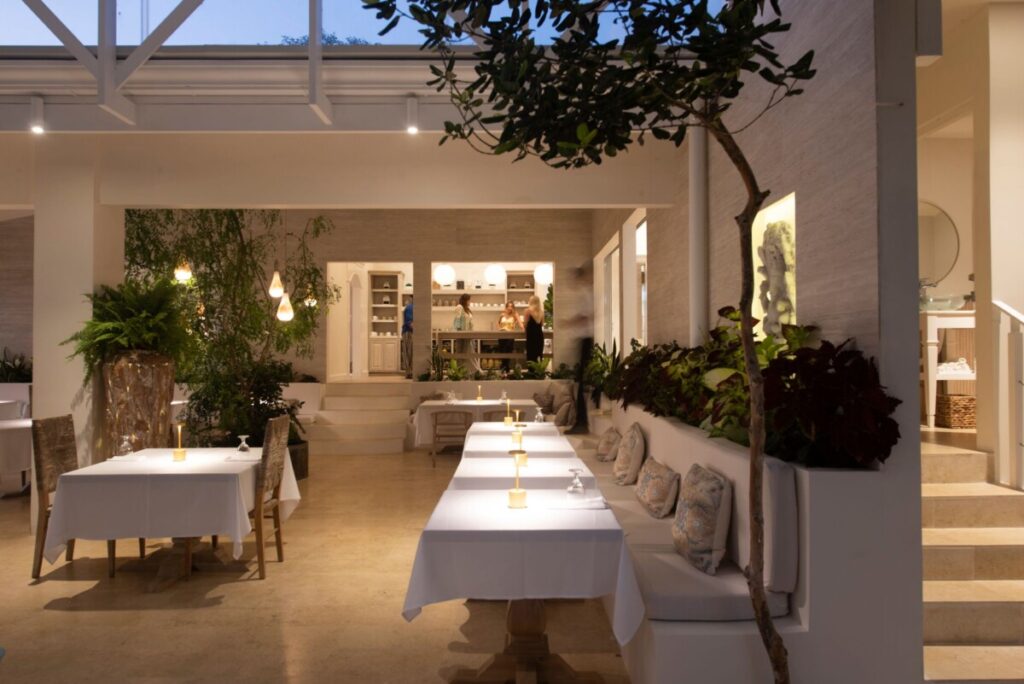 The impressive design motif and execution is in keeping with the
resort's focus on sustainability, localism, natural beauty, comfort
and the Asian philosophy of feng shui living. Costa Rican furnishings
are made from reforested laurel trees treated by local artisans to
obtain an authentic, soft-toned wood finish, and the chairs are wrapped
in dried banana leaf. The floors are a natural tone, recycled quartz
mixed with resin for versatility in high traffic areas. Walls are
covered in natural-colored porcelanato tiles.
Additional design features include a centerpiece focal attraction – a
large hand-carved, white marble Hindu Ganesha sculpture that is known
for the power of removing obstacles. The venue is adorned with beautiful
Balinese pottery, lush plants, ferns, palms and indigenous tropical
plants. The new bar features 50 large selenite mineral towers backlit to
ignite its purification properties of cleansing and healing spaces,
objects and people. The bar lighting is made of gold and silver washed
metals handcrafted from Morocco. The pillows strewn on the large
banquets in the inviting lounge are globally inspired by elegant and
graceful designs imported from India, Turkey and Morocco.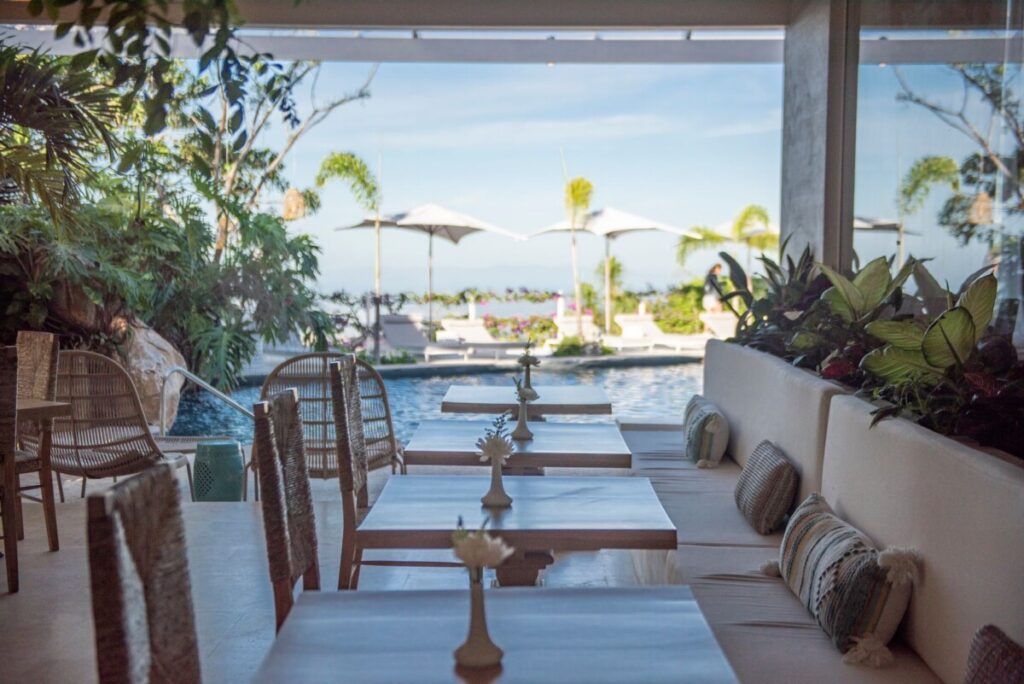 "I am delighted with the visual and visceral appeal of our new Sol
Terrace: Nature's Gastronomy. Personally, one of my favorite artistic
wonders in this space is an eight-foot painting of Tarzan, our mascot
peacock. We placed it front and center in the restaurant where we have
live peacocks roaming and interacting with our guests. Tarzan was
commissioned for my birthday by my partner Enrique," said Stobo, the
brainchild owner, celebrity chef, bestselling author and health and
wellness coach of idyllic The Retreat Costa Rica.
At Sol Terrace, the menus will continue to change daily under the
guidance of Executive Chef Carolina Botero and are based on an
anti-inflammatory diet incorporating organic produce, mostly grown on
the resort's farm. Breakfast and lunch are plant-based with dinner
featuring local, sustainably raised fish, fowl, meats and produce. The
kitchen is grain and dairy free and uses no refined sweeteners. Guests
also enjoy healing house-grown herbs and other fresh ingredients in
their drinking water and frescos, elixirs and hand-muddled, crafted
mocktails and cocktails. There is a selection of rare teas and organic,
biodynamic wines.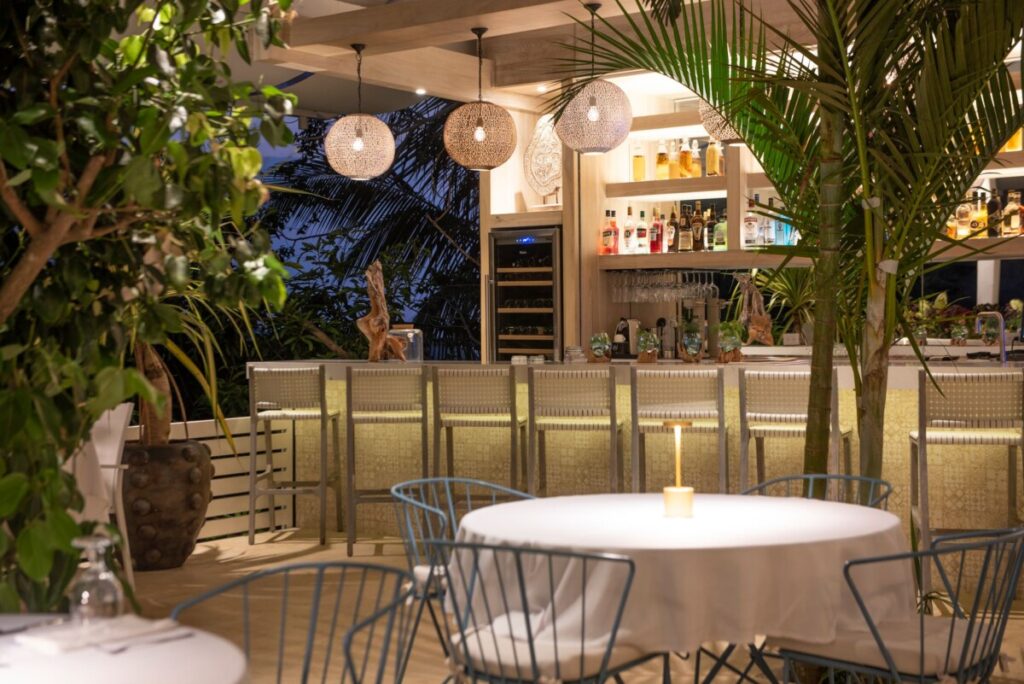 About The Retreat Costa Rica

The Retreat Costa Rica is a luxury wellness boutique resort and spa
founded by celebrity chef, bestselling author and health and wellness
life coach Diana Stobo in 2015. Located at the base of a quartz mountain
outside the town of Atenas, Alajuela, in Costa Rica and 30 minutes from
San Juan International Airport, the resort offers guests a
transformational experience in a nurturing environment. The Retreat
includes elegant accommodations, a spa and healing center, two
farm-to-table restaurants, a yoga studio, two saline swimming pools,
organic gardens, a coffee plantation, sweeping views and hiking trails.
More information is available at www.theretreatcostarica.com