The new OCEAN ECO 90 breaks new ground in yacht design and cruising efficiency. It is one of the finest examples of modern-day superyacht building. With 200 squaremeters of solar surface with 40kWp you can go Trans-Atlantic without charging.
The Ocean Eco 90 tries to renounce old yachting clichés and create a new look and feel for the new generation of E-Yachting. Modern shapes, a clear and futuristic feel but classic colours and materials create a well-rounded exterior design for forward thinking clients. Some of the key aspects of this design include a great open outdoor a large open flybridge and the large and well-lit saloon.
The design of the Ocean Eco 90 by HENNDESIGN is shaped around a new solar and electric approach towards catamaran yachting. Different to other catamarans the technology is not an add-on but a central design feature. The most obvious feature that underlines that fact is the aggressive roof line that comes down to the hull and therefore creates a larger roof surface for solar panels.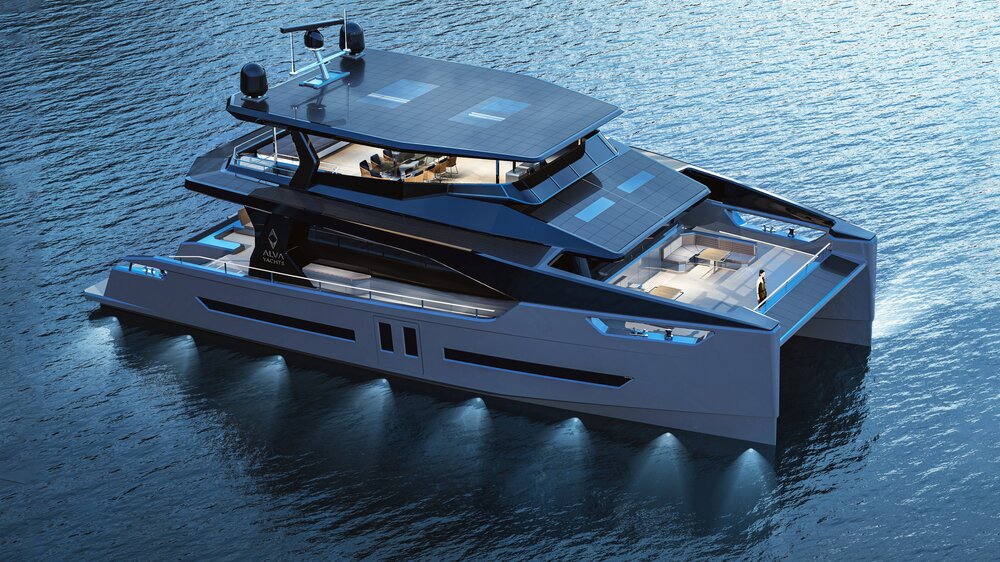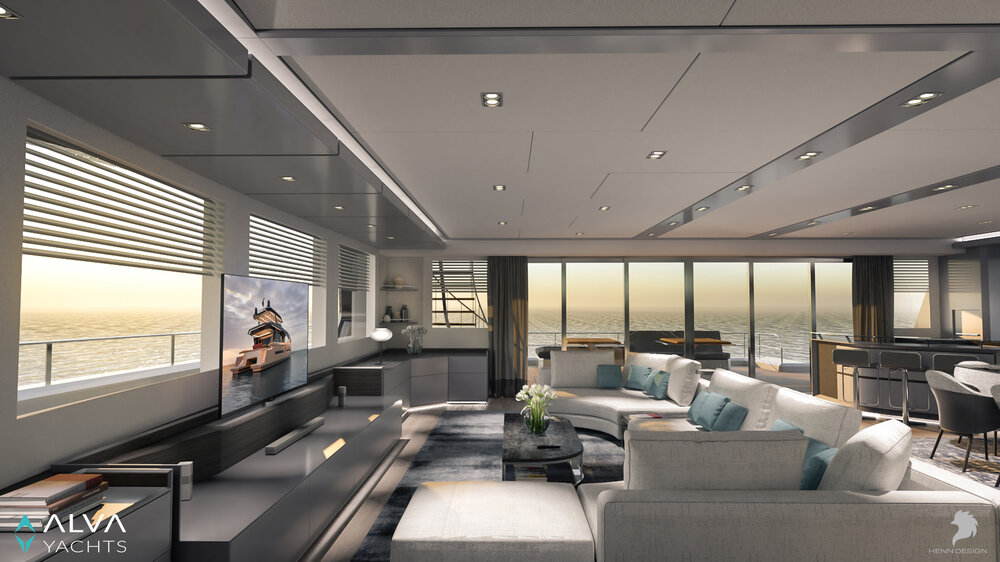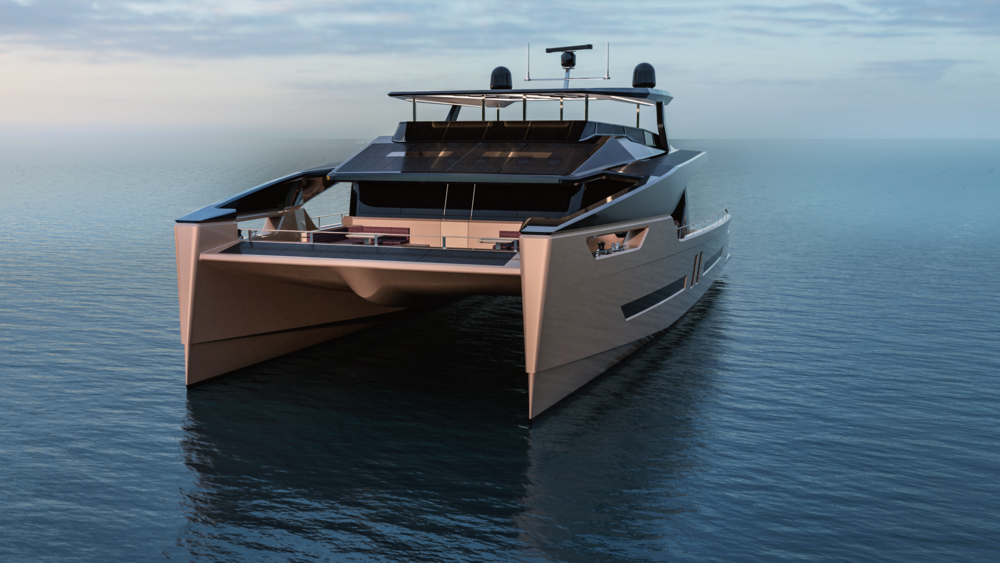 Length Overall: 27.50 m
Length of waterline: 27.00 m
Beam: 14.00 m
Draft: 1.2 m*
Displacement: (LD) 90,000kg
ENGINE OPTIONS:
Full Electric Version: OCEAN ECO 90f -EL
Up to 2x 500 kW gearless electric drive &
2x 100 kVA DC- Generator, Hydrogen Fuel cell with Hydrogen storage tanks as an option
Hybrid Diesel-Electric Version:
OCEAN ECO 90f-HY2x 250 kW gearless electric drive & 2x 456 KW diesel engine, gearbox, clutch, common shaft – with 5 different drive modes
Cruising Speed: 8-10 kn, Top Speed 15-16 kn
Solar Input: 40 kWp , with " Solar Roof" glass tiles
Batterie capacity: 240 kWh – 360 kWh
Fuel: 1.500 Ltr / 396 US gal.- 5.000 Ltr / 1.320 US gal
Specifications
Fresh Water: 1.500 Ltr / 396 US gal.- 3.000 Ltr / 793 US gal.
Water Maker: 280 Ltr/h – 74 US gal./h
Hot Water: 200 Ltr / 53 US gal.
Grey water: 2x 200 Ltr / 2×53 US gal.
Black Water: 2x 200 Ltr / 2×53 US gal.
Shore power: 32 Amp
Air-Conditioning: 35 kW / 120.000 BTU frequency driven compressor
chilled/ warm – water, reversed cycle system, super-silent fan coils

Wastewater Treatment System available

Classification: German Lloyd / private Yacht