Reuse water from your garden with the ONE+™ stick pump. The stick pump helps you become more environmentally friendly by pumping collected rainwater from a water barrel that can be used for irrigation.
RYOBI® has expanded into a new water pump market with the new stick pump. This new tool can be used for a variety of applications, from emptying the pool or hot tub to watering plants in the garden and gives users another practical solution with the ONE+™ system.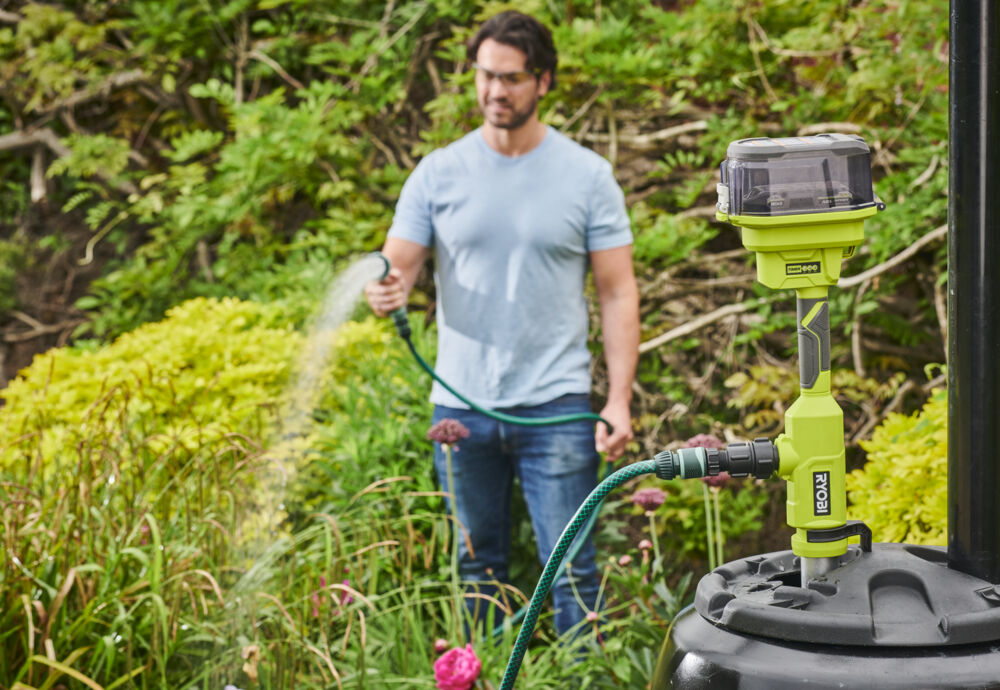 How does the stick pump work? First select tubing. The stick pump is supplied with an 80cm drain hose or you can connect your standard garden hose using the supplied adapter. Connect the filter and place the pump in the water source. Turn on the pump and start running. The stick pump starts to suck up water and pump it out of the hose. Thanks to its speed, ease of use and a flow of an impressive 3,360 l/h, this pump is a fantastic tool for quick water management. The filter in the stick pump catches larger debris or leaves that can damage the pump.
Hook up and get started A keg hook allows the user to attach the stick pump sideways when standing in a water source. The user also has three-time settings for how long the pump should be in operation, 5, 10 and 15 minutes, this allows the user to leave the pump running while doing something else. The automatic dry run shut-off feature shuts off the pump when the water source is empty. This prevents damage and protects the uptime of the stick pump.
Now you have the chance to win your own stick pump from RYOBI®!
All you have to do is email your answer to the following question with a justification as to why you should win!
Which is the battery with the largest capacity in the ONE+ series??
Is it 6Ah, 8Ah or 9Ah?
Email your answer with the justification to win@lifestyleworld.se by December 12 at the latest.